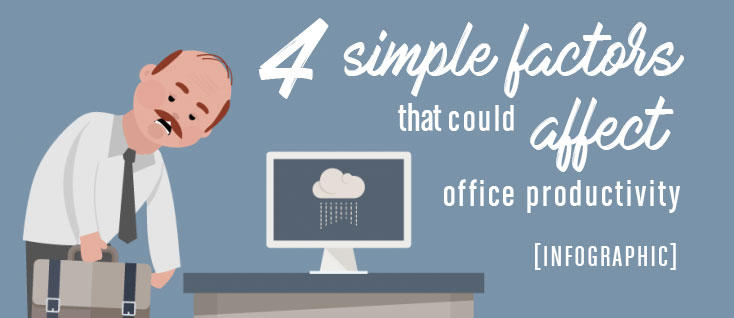 4 Simple Factors That Could Affect Productivity At Work (Improve or Harm it) [Infographic]
You must be thinking: an office is an office. Nicely decorated or not, it is just a place where your employees spend the day and leave when the clock strikes 5 o'clock.
That's where you are wrong. the environment and decor do affect the employees' health and their productivity level. According to studies, Americans work an average of 34.4 hours per week, 174 hours per month and 2088 hours per year. In other words, a human spends 30% of their lifetime working (which means 25-30years).
Imagine spending that much time at your desk with bad lighting and sitting on an old chair for 8 hours every day, you will find yourself feeling sluggish or worse. Recently, Pots, Planters & More created an infographic poster explaining how your work environment highly impacts the performance of your employees. Due to discomfort and pain caused by work equipment, the U.S. economy loses $81 billion yearly. Simply by replacing old or uncomfortable office furniture, productivity increased by 23%.

 "Unhappy, unproductive workers are expensive!"
From a Gallup poll, unhappy workers can cost up to $550 billion in lost productivity, yearly. 50% of the workers are not engaged and 20% are actively disengaged.
Another factor would be the lighting. Studies show that people are more active when they are exposed to natural light. 40% of the workers said the light is the most important factor in the workplace. People who reported an environment with bad artificial lighting are 3 times more likely to feel their environment harms productivity and 2 times more likely to be depressed.
The space of the office could also be a factor. People report that an office with good decor and design impacts their productivity. The most important factors when it comes to workspaces are lighting and functional spaces.
Fun fact, placing plants or colourful decor in the space is an option as well. Not only can you decorate the space to show the office's personality but the colours can also create an uplifting environment. 85% of the people find they are more productive when the environment contains a lot of plants.
For other interesting facts and more information for each factor, consult the great infographic below!