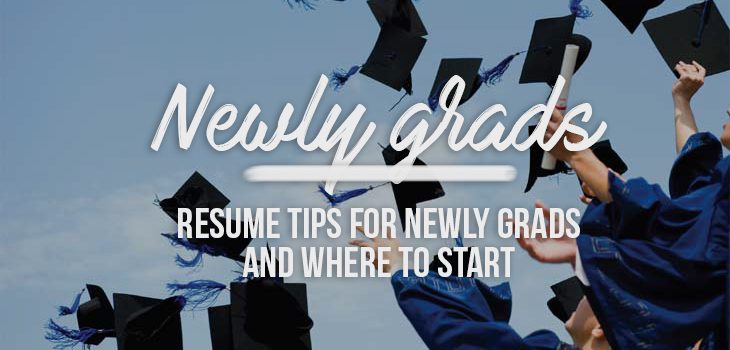 How To Write a Good Resume and Set A Career Objective (for New Graduates)
After proudly walking on graduation stage, receiving your diploma, sharing a handshake and words of gratitude with the head of your program department, it is time to prepare for the job market. The first thing you will need is to build a good resume tailored to your experience and your goals.
Like most graduates, you have little experience and are asking yourself how can you get your dream job when most of the openings are asking for at least a few years of relevant experience. While staring at a blank page, scratching your head, you are thinking you won't be going anywhere with your experience as a retail sales associate. Most often, new grads think they are disadvantaged in a competitive market. However, don't forget after completing your college degree, you improved 50% of your chances already. According to Stats Canada, in 2012,  out of 478,737 registered students, only 51% successfully completed their bachelor and above. And, in the year of 2007, 83% of the graduate are employed. So don't worry, start concentrating on building your brand with your resume, you will surely find a career that will teach you new skills as well as refine the ones you currently possess.
There is no universal resume. In your situation, you need to first understand and put emphasis on your goals, marketable skills and experience you acquired on your resume.
First, determine your career goals
Sadly but true, many graduates do not have a clear objective about their career goals. Which makes them with no sense of direction when entering the job market. To avoid this, you should understand yourself a little more by asking yourself a few questions: What are your interests? What have you learned during your education and from your previous jobs? What kind of doors does your education open?  You should be able to build your resume around those answers.
If you are still not sure, you can revert to research. You can search for info by looking at hot jobs of the year and see if any of those are to your liking and match your skills. Then, you can look for their entry-level and work your long-term goals.
Spice up your work experience section
You think your retail sale associate experience is not relevant? Yes, it is! You will have to dress it up by highlighting the key skills and experience that are relevant to your professional profile. For example, as a sale associates, you:
Gained customer service experience
Developed people and communications skills
Demonstrated you are team oriented
Acquire problem-solving skills
By laying out the points, you are demonstrating that you acquired customer support and a great communications skills and pay attention to detail. Those are characteristics employers and recruiters are mostly looking for.
Built your resume around the company and job description
After all, you have to sell yourself when you apply for a job and your resume is your marketing tool. Like any marketer, you will need to understand who is your target audience is and what they want from you. So you have to customize your resume to fit the position like a glove by identifying the skills your audience needs from you. Normally, there are three types of skills presented in the job description, such as:
the "must have": They are the non-negotiable required skills for the job. If there are skills that match with your experience and education, write them down.
the transferable skills: these are "general" skills that can be applied to different jobs, such as communications skills, languages, computer skills, team player, work independently.
the adaptive skills: These are the skills that demonstrate you are a good candidate to work with. For example, flexibility, fast-learner, problem-solver.
It is recommended to start your resume with a short summary with 2 to 4 laser focused sentences. Most importantly, if you do not have much experience, do not beat around the bush, be straightforward and to the point. The summary will help to understand who you are, what you are looking for and invite them to read further.
Accentuate your courses
If you are applying for a job that is not related to your major, you should accentuate your other electives. For instance, you majored in accounting but you are applying for a communications job, you should include:
"Courses includes, media studies, advertising, public relation and administration for productions."
This way, the recruiter will understand your educational background and think you are a versatile candidate, which is a plus!
Last but not least, proof-read your resume as many times as you can and ask someone else to edit it. Make sure your resume is well written and spell-checked. No one will take a poorly edited resume very seriously.