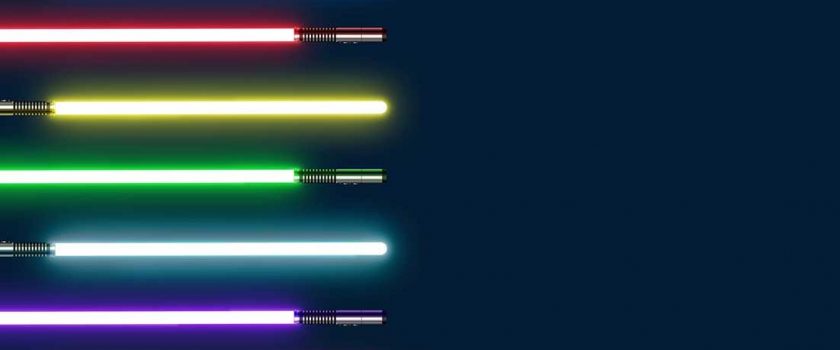 What would your lightsaber be if it was based on your current profession?
What would your lightsaber be if it was based on your current profession?
If you are a Star Wars fan, you already know about lightsabers. If not, let me tell you about them. Lightsabers are the swords Jedis use in the Star Wars movies.
There are 7 different lightsabers, which include red, blue, green, yellow, purple, white and black. The colour of the lightsaber varies depending on the wielder. The colour is based on the user's strength and personality. There's no doubt that the star wars fan within us wants to own a lightsaber and fight alongside their favourite Jedi. Even if you aren't a fan, you could be curious and want to know more about this classic blockbuster.
If lightsabers were an actual thing in today's world, what colour would your lightsaber be knowing each colour represents a work field?
Here is a description of each lightsaber colour and its meaning along with a list of professions that we think are suitable. Find out which colour you wield:
Blue
The blue lightsaber is the traditional colour that a Jedi wields. They seek to take a stand for what they believe in. When you think about the blue lightsaber think about a profession like:
Customer Service representatives or agent: you are the window between the client and your employer. You have excellent communication skills with a high degree of dedication, ownership and initiative.
Lawyer: You take a stand for justice!
Green
The green lightsaber means that the Jedi would prefer a peaceful solution, such as negotiations, instead of battling but it is still very talented. It also symbolizes wisdom and knowledge.
Psychologist, teacher, social workers: You have the wisdom and knowledge to teach your peers and clients different aspects of life.
Sales reps: To be a successful sale rep, you must master the art of negotiating to constantly close deals and increase sale profit.
Red
While red lightsaber wielders are often unconventional, they focus on their master plan and implement an all-encompassing methodology in their strategy.
Managers, CEOs, Executives: you strive for success, clarity and professional growth. You are able to delegate tasks to employees.
Purple
The purple lightsaber attributes that are include sympathy and compassion. These lightsaber wielders have been known to take extended bouts of mediation.
Freelancers: Freelancers are their own bosses and often prefer to work alone, they tend to have a more personal relationship with their clients. They also have the ability to control their workload.
Yellow
The yellow lightsabers are wielded by intellectual and scholars. They pursue knowledge and they often choose an area to specialize in.
Doctors: They place a high value on people's well being, a factor that contributes to the satisfaction of being a doctor is the abundance of research and training opportunities.
Teachers: They are experts in their fields. They often have the opportunity to work with young people and make a difference. When they are good teachers, they can have a direct impact on their students' future.
White
Users who wielded this were deployed for service and security. They understand that helping and being hospitable is part of being a good provider.
Security guards: They keep a safe and secure environment for people by patrolling and monitoring premises and personnel.
Black
The black, or Darksaber symbolizes self-obsession however it is not in a bad way, look at it as pride.
Consultants: They offer advice and expertise. They also help improve business performance in terms of operations, profitability, management, structure and strategy.
Financial advisors: Financial advisors assess the financial needs while helping them with investments, tax laws, and insurance decisions. They help clients plan for short-term and long-term goals, such as education expenses and retirement.
So, which lightsaber do you wield according to your career?
Visit our job board to look for other opportunities and to acquire your lightsaber.
May the 4th be with you!